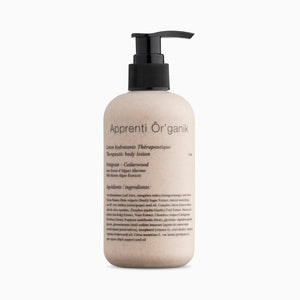 Italian Petitgrain & Cedarwood
Harnessing the moisturizing power of aloe vera and our marine algae extract, this non-greasy, therapeutic lotion restores the skin's natural moisture levels, leaving it feeling silky-soft. Loaded with active natural ingredients this lotion not only revitalizes the skin but also nourishes the deeper layers of the epidermis. 
Lightly scented with therapeutic essential oil of Petitgrain, cedarwood and black pepper giving it a fresh, rich woodsy and slightly smoky scent.
250ml
Active Ingredients:
Natural aloe vera juice: an ingredient praised in Ayurvedic medicine for its moisturizing and nourishing properties.
Squalane: a botanical lipid that naturally mirrors the skin's molecular structure.
Chlorella: freshwater algae rich in amino acids, iron, vitamins A, B, and C and packed with chlorophyll.
 Ingredients: Aloe Barbadensis Leaf Juice, mangifera indica (mangue/mango) seed butter, glycine betaine beta vulgaris (sucre de bétrave/beet sugar) extract, natural emulsifying wax NF, vitis vinifera (raisin/grape) seed oil, chanvre seed oil, olive squalane, Zizyphus jujuba (Jujube) Fruit Extract, Macrocystis pyrifera (varech de mer/Sea Kelp) Extract, chlorella vulgaris Extract, athae officinalis (marshmallow) Root Extract, glycérine végétale/vegetable glycerin, gluconolactone (and) sodium benzoate (agents de conservation naturels/natural preservatives), tocopherol (vitamin E), cetyl alcohol, Juniperus virginiana (cedarwood) oil, Citrus aurantium L. var amara (petitgrain) oil, piper nigrum (black pepper) seed oil


Founded by Alexe in Montreal, Apprenti Ôr'ganik is a therapeutic body care line that celebrates harmony between our bodies and the natural world. They are committed to procuring high-quality ingredients that are as good for the environment as they are for our skin.
Proudly made in Montreal, all products promote holistic skincare and deeper connection to the earth. All of the products are slow made by hand with care using only "active" ingredients for their therapeutic benefit with no filler added. All products are never tested on animal and they are cruelty free. Only created with natural ingredients and plant-based food grade oils, steam distilled therapeutics grade essentiel oils and many certified organic ingredients.