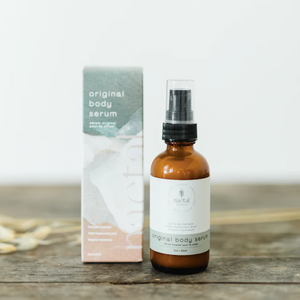 This fast absorbing and lightweight serum intensely hydrates and immediately calms and soothes any dry, itchy, sensitive and irritated skin on the face and body.  Made with a high concentration of colloidal oatmeal, triple-weight hyaluronic aid and organic calendula extract, this multi-functional water-based serum deeply hydrates while nourishing the skin with natural healing ingredients. Great for even pregnant & postpartum moms and babies.
Naetal has partnered with abstract artist Joy Kinna to offer a unique collaboration in giving back to a community dear to our hearts!
Our Joy Kinna x Naetal collaboration features Joy Kinna's ethereal abstract artwork with Naetal's Original Body Serum. Joy created this artwork with colours that resemble the key ingredients used in our formulas including colloidal oatmeal, calendula, chamomile and gotu kola. 
For every Joy Kinna x Naetal Original Body Serum sold, a total of 10% proceeds go to three associations – BC Family Hearing Resource Center, Children's Hearing & Speech Center, and Deaf Children's Society of BC. 


KEY INGREDIENTS
Colloidal oatmeal - soothes, softens and protects skin against irritation or inflammation
Triple hyaluronic acid - increases skin elasticity and deeply hydrates at every level of the skin with 3 different molecular weight HA
Organic calendula - calms and reduces skin irritation while helps heal wounds and scarring 
HOW TO USE
For the Body: Apply a thin layer to clean damp skin morning and night, or as often as needed. For best results, apply the Naetal Belly Butter or Baby Butter after Original Body Serum for extra nourishment.
For the Face: Apply 1-2 pumps on damp skin after your favourite facial toner. Followed by moisturizer.
TIPS
Hyaluronic acid draws moisture from its surrounding environment, so the serum works best when applied on damp or even wet skin.
Best applied on damp skin after toner as a night time facial serum or after shower on the body.
As a facial serum - Use immediately after toner when face is still damp. 1-2 pumps for the whole face is sufficient.
Store in a dry cool area, away from direct sunlight. 
FULL INGREDIENTS LIST
Aqua, colloidal oatmeal, glycerine, sodium hyaluronate (<8,000 daltons), sodium hyaluronate (0.8 - 1 million daltons), sodium hyaluronate crosspolymer (>1 million daltons), calendula officinalis extract*, aloe barbadensis (vera) leaf juice*, matricaria recutita (chamomile) flower extract*, sclerotium gum, cellulose gum, citrus aurantium dulcis (orange) oil, caprylyl glyceryl ether, capryl hydroxamic acid, propanediol
*certified organic
FREE FROM
Parabens, sulfates (SLS/SLES), silicones, PEGs, mineral oils, petrolatum, propylene glycol, phthalates, phenoxyethanol, EDTA, synthetic colours and fragrances, and animal testing. 


SCENT: Light citrusy orange - Naturally scented from orange essential oil
For external use only. Naetal products and information are not intended to treat, cure, diagnose or prevent any disease or conditions. Always perform a patch test before use.  If irritation occurs, discontinue use.
Made in Vancouver, Canada.