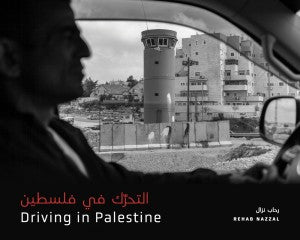 By Rehab Nazzal رحاب نزال
During the past seven decades, Palestine has been sealed from the Arab world and shattered into fragmented and coded areas: 1948 area, 1967 area, Jerusalem, West Bank, Gaza and A, B and C areas within the West Bank. Each area is ruled by different laws, including different roads and permits that control the mobility of Palestinians and privilege Jewish settlers.
Driving in Palestine is a research-creation project by acclaimed artist Rehab Nazzal, who explores the visible indices of the politics of mobility that she encountered firsthand while traversing the occupied West Bank between 2010 and 2020. This photography book consists of 160 black and white photographs, hand-drawn maps and critical essays in Arabic and English by Palestinian and Canadian scholars and artists.
The photographs were all captured from moving vehicles on the roads of the West Bank. They focus on Israel's architecture of movement restrictions and surveillance structures that proliferate in the West Bank, including the Apartheid Wall, segregation walls surrounding illegal colonies, gates, fences, watchtowers, roadblocks and military checkpoints among other obstacles to freedom of movement.
Rehab Nazzal is a Palestinian-born multidisciplinary artist based in Toronto. Her work deals with the effects of settler-colonial violence on the bodies and minds of colonized peoples, on the land and on other non-human life. Nazzal's video, photography and sound works have been exhibited in solo and group exhibitions across Canada and internationally.
Paperback
200 pages, 160 b/w images
20.5 cm x 25.5 cm
Published 2023 by Fernwood Publishing