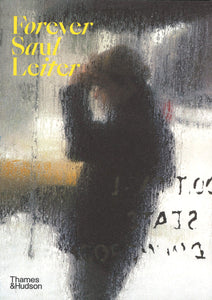 Photographs are often treated as capturing important moments, but they are really small fragments and memories of the world that never ends. - Saul Leiter
This revealing collection of Saul Leiter's work, much of it published here for the first time, underscores the photographer's unique contributions to the development of twentieth-century photography and the use of color.
Saul Leiter's painterly images evoke the flow and rhythm of life on the midcentury streets of New York in luminous color, at a time when his contemporaries were shooting in black and white. His mastery of color is displayed in unconventional cityscapes in which reflections, transparency, complex framing, and mirroring effects are married to a very personal printing style, creating a unique kind of urban view; his complex and impressionistic photographs are as much about evoking an atmosphere as nailing the decisive moment.
Leiter's studio in New York's East Village, where he lived from 1952 until his death in 2013, is now home to the Saul Leiter Foundation, which is undertaking a full-scale survey and organization of Leiter's more than eighty thousand images with the aim of compiling his complete archive. This volume contains items discovered through this undertaking: valuable documents that reveal the secrets of Saul Leiter's process, unpublished works, popular color works, black-and-white images that have never been published before, as well as images that hold the memories of those closest to him, taken in private.
Softcover
296 pages
14.99 x 2.79 x 21.08 cm