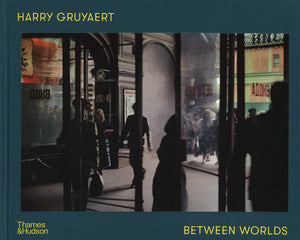 A master of color-saturated atmospheres, Harry Gruyaert has roamed the world searching for the perfect light for more than forty years. His intuitive and physical relationship to places immerses the spectator in a world that borrows from the cinematic universe and from that of the painter. "A good photo is a photo that says a lot of things about the place and the moment it was taken," says Gruyaert. Space―its complexity, the perception that we have of it, its plasticity―is a major component of Gruyaert's images, as if the duality between color and spatiality was dissolving in order to create a work where the only thing that matters is the pleasure of immersion.
Harry Gruyaert: Between Worlds dissolves the boundaries between exterior and interior spaces, a closed world and one that is open to elsewhere. From shops, cafés, subway platforms, and hotel roomsin Europe, the Middle East, the United States, and Africa from the1970s to today, Gruyaert deploys the very essence of visual writing:a luminous alchemy suspended in time. A collection of seventy-five images that connect one realm with the next, this volume shows that beyond the marvelous colorist that he is, Gruyaert's images also depict a photographer's vision of the world.

Harry Gruyaert is renowned for his photographs of India, Morocco, and Egypt as well as of the west of Ireland, and for his use of color. He is a member of Magnum Photos, and his work has been exhibited widely.

David Campany is a curator, writer and educator, based in London. He is the author of numerous books, including OnPhotographs and Harry Gruyaert: East/West. 
Hardcover
144 pages
75 color photographs
29.72 x 2.29 x 24.13 cm
January 2023