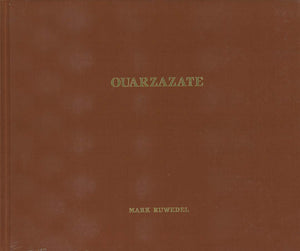 Ouarzazate is a small city in the Moroccan desert famous for its movie studios and filming locations, an industry which began with David Lean and Lawrence of Arabia.
Invited by the American Friends of the Marrakech Museum for Photography and the Visual Arts to propose a project for his artist residency there, Ruwedel photographed the movie sets in 2014 and 2016.
Much of the filming activity in Ouarzazate has been for costume and Biblical epics. Cleopatra, The Garden of Eden, The Mummy, The Last Temptation of Christ; but also The Sheltering Sky and The Hills Have Eyes. Many of the sets appear to have been abandoned while others are constantly repurposed.
An Egyptian portal leads to a medieval village. An authentic Kasbah in ruins is actually a ruined replica of a "real" Kasbah elsewhere. Shepherds drive their flocks past "ancient" siege machines and Roman columns. "I was reminded of certain passages in Nathaniel West's Day of the Locust."
Far from the American deserts where he has produced much of his work of the past thirty years, in Morocco Ruwedel continues his long term interest in contemporary ruins and the histories of both landscape and landscape photography. The photographs are eerily reminiscent of 19th century European photography of ancient Egypt and the Middle East.
REVIEWS: