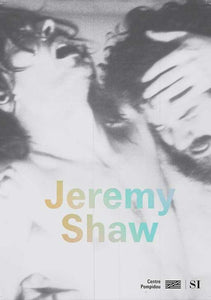 This catalogue was published to accompany Shaw's first institutional solo exhibition in France, at the Centre Pompidou in February 2020. On the occasion of Phase Shifting Index, this catalogue constitutes the first complete monograph on the artist and offers a survey of his larger body of work.
Artist Jeremy Shaw has explored the human aspiration towards transcendence through his multidisciplinary practice since the early 2000s. Shaw has developed a body of work that reveals the edges of culture and consciousness by adopting techniques from conceptual art and documentary film to create new narratives shot through with metaphysics, anthropology and science. His innovative work combines eschatological questioning, juxtaposed belief systems, and science fiction, with disparate zones of neuroscience and subculture to confront the aspirations of people in a post-human epoch.

Edited by Christine Macel and Simon Castets
With contributions by Simon Castets, Nora M. Khan, Christine Macel, Laura McLean-Ferris and Monika Szewczyk.
English, French
Hardcover
144 pages
Dimensions: 20 cm x 29 cm
Published by Centre Pompidou, Paris and Swiss Institute, New York, 2020.

SIGNED Limited number of copies signed by the artist.