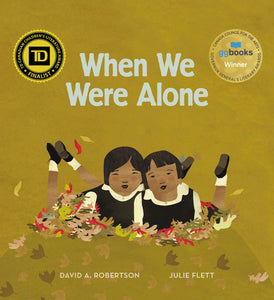 An empowering story of resistance that gently introduces children to the history of residential schools in Canada.
A young girl notices things about her grandmother that make her curious. Why does her grandmother have long, braided hair and beautifully coloured clothing? Why does she speak Cree and spend so much time with her family? As she asks questions, her grandmother shares her experiences in a residential school, when all of these things were taken away.
When We Were Alone won the 2017 Governor General's Literary Award in the Young People's Literature (Illustrated Books) category, and was nominated for the TD Canadian's Children's Literature Award.
Awards
Winner, Governor General's Literary Awards 2017
Runner-up, TD Canadian Children's Literature Award 2017
Winner, McNally Robinson Best Book for Young People Award/Younger Category 2017
Reviews
A quiet story…of love and resistance. … Flett's collage illustrations, with their simplicity and earthy colors, are soulful and gentle….   All readers will connect with how Nókom lives in celebration of colors, her long hair, her language, and, most of all, her family.
a starred review, The Horn Book Magazine
When We Were Alone is rare. It is exquisite and stunning, for the power conveyed by the words Robertson wrote, and for the illustrations that Flett created. I highly recommend it.
Debbie Reese, American Indians in Children's Literature
…Robertson handles a delicate task here admirably well: explaining residential schools, that shameful legacy, and making them understandable to small children. It's a dark history, and the author doesn't disguise that, but he wisely focuses the grandmother's tale on how, season by season, the students use creativity, imagination, and patience to retain their sense of identity. A beautifully quiet, bold strength arises from the continued refrain "When we were alone" and in how the children insisted on being themselves. Flett's gorgeous, skillful illustrations have a flattened, faux naïve feel to them, like construction paper collage, a style that works perfectly with the story. She nicely contrasts the school's dull browns and grays with the riotous colors surrounding Nókom and gets much expression from her simple silhouettes.
Spare, poetic, and moving, this Cree heritage story makes a powerful impression.
Kirkus Reviews
Robertson's soft rhythmic text and Julie Flett's simple, yet expressive, illustrations combine to create a beautiful story of strength and resistance. The muted colours used in the pictures of residential school life remind readers of the suffering endured by Indigenous children. The contrast between these pages, and the vibrant greens, reds, and blues of the illustrations depicting residential school students temporarily escaping into nature, is heartbreakingly effective. Robertson never tries to disguise the underlying tragedy of Nókom's experience, but together he and Flett have crafted a book that is still suitable for younger readers, in spite of the intense subject matter.
When We Were Alone is an incredible work of art and is very highly recommended.
Roseanne Gauthier, National Reading Campaign
Robertson's text moves between the present and the past, the girl's questions and Nókom's memories, which deepen and intensify the quiet, powerful way she lives out her own culture, day by day, in the present. A beautifully rendered story of resisitance and love, this is made all the more luminous by Flett's art - not just by flashes of fuschsia or scarlet among ochre grasses, but by her precisely observed images of the compact bodies of the uniformed children, bowed beneath the weight of the scissors, or lovingly tending each other's hair. Highly recommended.
Deirdre Baker, Toronto Star