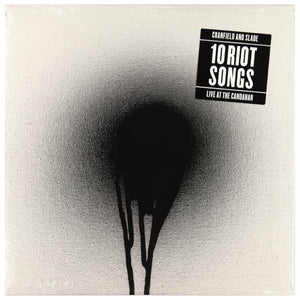 CRANFIELD AND SLADE / 10 RIOT SONGS / LIVE AT THE CANDAHAR / 2010
12 inch phonographic record in red vinyl
1. Suspect Drive: 2:33
2. Smash The State: 1:42
3. Let's Have A War: 2:16
4. Wild In The Streets: 2:41
5. Somebody's Gonna Get (Their Head Kicked In Tonight): 2:05
6. Riot : 6:13
7. Death To The Sickoids: 1:42
8. I Hate The Rich: 1:48
9. White Riot: 1:59
10. Fuck You: 2:12
10 Riot Songs was performed and recorded live at The Candahar Bar in Vancouver, BC, Canada on February 19, 2010. The Candahar Bar is a project by Theo Sims, curated by Reid Shier and Michael Turner for Presentation House Gallery, February 12-28 2010.
Cranfield and Slade are: Rich Trawick (Bass), Kathy Slade (Vocals), Christa Min (Guitar), Chris Harris (Guitar and vocals), Brady Cranfield (Drums)
Recorded and mixed by Jordan Koop. Mastered by Stu McKillop.