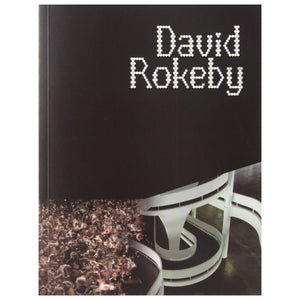 David Rokeby is a technological philosopher. In his work he is keenly aware of the "ambiguous and irresolvable" nature of humanity and its relationship to the "absolutely arbitrary space of binary information." He is interested in the way humans and machines mutually influence each other. His art works engage the viewer both physically and conceptually in a dialogue with technology.
The publication includes the two projects shown at Presentation House Gallery:  The Giver of Names and Watch. In The Giver of Names a computer identifies and describes objects put before it – a kind of Mike Kelly meets R2D2 performance involving the assistance of the viewer. The installation Watch, a surveillance camera brings outside images into the room, processing them according to specific visual codes. The piece resonates with debates of the image as evidence and is visually engaging. The 2001 PHG exhibition was curated by Karen Henry.
Texts by Dot Tuer, Shirley Madill and Karen Henry.
The Presentation House Gallery / Art Gallery of Hamilton publication accompanied David Rokeby's new media presentation at the 26th Sao Paulo Bienal in the Fall of 2004. Curated by Shirley Madill, Rokeby's project was selected to represent Canada at the prestigious international event.
Softcover
9 black & white and 14 colour reproductions
54 pages
6.5" x 8.5" / 16.5 x 21.5cm
2001