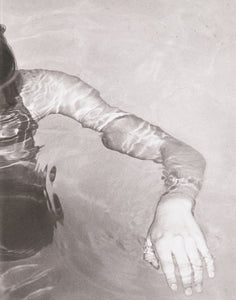 Yes Yes We're Magicians is a compilation of anonymous, vintage black-and-white photographs mostly found on eBay from the personal collection of the Canadian artist, collector and writer Jonah Samson. Titled after a line from Samuel Beckett's play, Waiting for Godot, the dominant mood of the book recalls Beckett's take on human existence as tragicomic.  Samson, too, reflects on the absurdity of life through slapstick and dark humor, and a warmhearted affection for the mysteries of human gestures.  Involved in all aspects of making the book, Samson has created a carefully orchestrated narrative flow between various kinds of vernacular photographs. Whether a blurry snapshot or a formal portrait, the images draw out the uncanny and magical qualities of photographs. Free of any description, the compelling pictures are allowed to speak for themselves. They are often imperfect, with figures disappearing into misty and watery surfaces, and the details of time and place becoming obscured. Establishing the mood at the beginning with a mysterious color photograph of an erupting volcano, the book interweaves forgotten moments from the past where incidents of the celebratory, melancholic, surreal and bizarre are put into dialogue.  As an artist who often reworks found photographs, Jonah Samson brings a distinctive sensibility to this book and treats the form as an artwork in itself.
Co-published with Figure One Publishers.
2016 Alcuin Society Book Design Awards - Second Prize, Jonah Samson and Jessica Sullivan in the Pictorial Book Design Catagory.
PRAISE
"It is impossible to talk about Yes Yes We're Magicians without acknowledging the lavish production of the book itself: it's gorgeous. […] Although it would be easy for a collection of found photography to feel either dully ineffectual or contrived, Yes Yes We're Magicians manages to strike an impressive balance, being clearly meticulously organized without sacrificing the sense of eerie randomness central to found photography. Though every reader will have a different experience of the book, there is one aspect on which Samson deserves accolades from across the board: making it look so easy."— Broken Pencil Magazine
Hardcover
Lay-flat binding
9 x 7 in.
104 pages
Publisher: Figure 1 Publishing and Presentation House Gallery