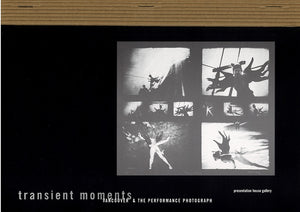 This publication was produced on the occasion of the exhibition Transient Moments: Vancouver and the Performance Photograph, guest curated by Ann Pollock for Presentation House Gallery. Running from September 14 to October 27 1996, the exhibition was part of a larger project addressing the relationship between performance art and photography from the 1960s to the 1980s, which included the exhibition Action/Performance and the Photograph, curated by Craig Krull and circulated by Curatorial Assistance Inc., Los Angeles. The publication includes an essay by Ann Pollock.
Editor and publication coordinator: Karen Love
Designed by Alex Hass and printed by Marine Printers.
Softcover
16 pages
32 b/w reproductions
8" x 11", 21 x 28 cm