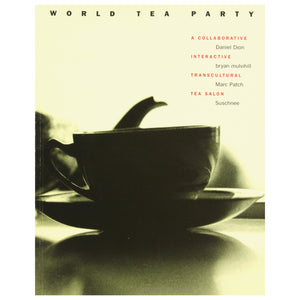 The award-winning catalogue is a compilation of installation views, historical photographs and texts about our 1995 World Tea Party exhibition. The exhibition was a pan-cultural, interactive installation which took the form of an archetypal tea salon. The project drew upon the ritual of tea drinking as a metaphor for the dialogue between peoples, and their spiritual and aesthetic ideals. Curated by Daniel Dion, Bryan Mulvihill, Marc Patch, and Suschnee. Essays by Jennifer Fisher, Steven Holtzman, Keith Snyder and Vincent Sze, with an introduction by the artists.
The exhibition was supported by many organizations with major sponsorship from the Canada Council. World Tea Party is endorsed by the Canadian Committee for the 50th Anniversary of the United Nations and is dedicated to the UNESCO World Decade for Cultural Development.
Designed by Alex Hass, Radish Design and printed by Hemlock Printers.
AWARDS
American Association of Museums Publications Design -
 - Exhibition Catalogue. Second prize, 1997
Canadian Museums Association -
 - Publications- Outstanding Achievement Award