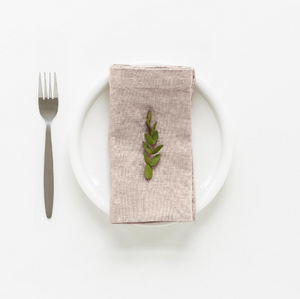 With a bit of a touch of joy and comfort, Linen Tales Linen Napkins made from all-natural linen fibers bring a luxurious and sophisticated feel to the table. A wide range of solid color choices for you to set napkins on the table, fold them elegantly, and place them as a beautiful centerpiece on your tabletop for a chance to share the beauty with your guests!

Two napkins per set.
20" x 20"

- The mitered corners help for the napkins to hold their beautiful shape
- 100% linen, 215 g/m2
- Stone washed for extra softness
- Handmade with love in Lithuania
- OEKO-TEX® and EUROPEAN FLAX® certified linen fabric
Linen is the strongest, and most resistant natural fiber has unique bacteriologic properties and is less prone to wear and tear down. Your favorite linen pieces can last you for many years with proper care!
To avoid shrinkage, the machine washing temperature should be 40°C / 100°F; for thin linen fabrics, avoid using a washing machine; it's best to do it by hand. Avoid harsh powder detergents to clean the pieces and use oxygen-based bleach only on white linen. For best drying results, hang-dry your linen; if you don't have such an opportunity, use a tumble on low and remove it while still damp. You can iron the fabric for a neat look, but we encourage you to embrace a natural crinkled look.