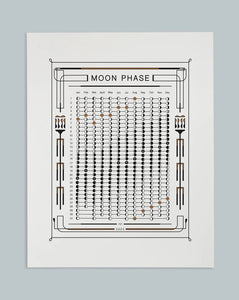 Annie Axtell's 11th edition of the her moon calendar for 2023. 
This year's design is routed in the concept of balance. Movement and structure are represented by curves and columns with moments of play between the lines. Inviting you to consider the relationship between flexibility and resistance in the year ahead. The balance of which we pursue each day in all aspects of life as we meet a world full of renewed possibilities.
This two-colour screen print is editioned on light cream archival paper. It measures 16" X 20" and will fit in a standard-size frame. Signed by the artist. Black lines with rust accents. Hand printed in Vancouver, BC.
TIME ZONE
Depending on the timezone you live in, certain lunar phases will occur on different dates. To account for this, the Lunar Calendar is currently only available in PST at The Polygon Gallery.