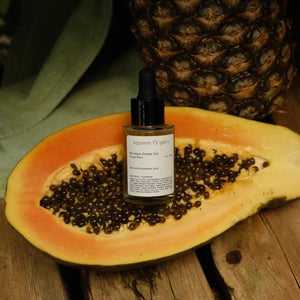 An oil free hydrating serum to replenishes moisture and restores radiance with papayas and pineapple extract

Very light weight it can be use before your moisturizer, sunscreen or oil serum to provides deep, long-lasting hydration. The gel is mildly exfoliating due to its fruit extract and cooling due to the peppermint hydrosol.

Made with a concentrated blend of multiple hyaluronic acid to form stereoscopic sponge-like structures for comprehensive multi-level skin care.
High molecular weight sodium hyaluronate form an invisible and dense protective film on the surface of the skin helping to trap moisture and prevent external pollution and haze.
Medium molecular sodium hyaluronate adheres to the surface of the skin to soften the stratum corneum making the skin feels soft and smooth
Low-molecular and oligo molecular sodium hyaluronate combat preliminary aging, increase skin elasticity, and penetrate into the skin for deep hydration and nourishment
Usage: After cleansing or toning, apply as your first step to the entire face and neck in the morning and evening for maximum skin hydration and plumping. Allow skin to absorb the product until your skin is dry to the touch than follow with moisturizer or oil. Best used with our Herb ElixirFor all skin types

Ingredients:
Organic Aloe Leaf Juice (Aloe Barbadensis), Mentha Piperita Leaf Distillate Water, Hydroxyethyl Cellulose, Phenoxyethanol, Glycerin, Organic Pineapple Fruit Extract (Ananas Comosus), Organic Papaya Fruit Extract (Carica Papaya), Organic Papaya Leaf Extract (Carica Papaya), Sodium hyaluronate, Saccharide isomerate, Camellia Sinensis Leaf Extract, citric acid, sodium citrate, Organic Alcohol, Tetrasodium Glutamate Diacetate

Founded by Alexe in Montreal, Apprenti Ôr'ganik is a therapeutic body care line that celebrates harmony between our bodies and the natural world. They are committed to procuring high-quality ingredients that are as good for the environment as they are for our skin.
Proudly made in Montreal, all products promote holistic skincare and deeper connection to the earth. All of the products are slow made by hand with care using only "active" ingredients for their therapeutic benefit with no filler added. All products are never tested on animal and they are cruelty free. Only created with natural ingredients and plant-based food grade oils, steam distilled therapeutics grade essentiel oils and many certified organic ingredients.