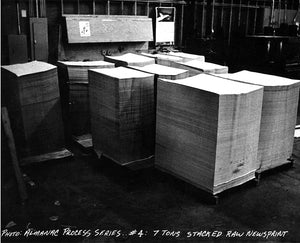 B.C. Almanac(h) C-B, marks the long overdue re-issue of a rare, sought-after anthology of fifteen photographic bookworks, originally commissioned in 1970 by the National Film Board of Canada's Still Photography Division. The 472-page book, designed as a type of exhibition, includes key figures in the vibrant multimedia art scene that was flourishing on Canada's westcoast. Presentation House Gallery is also remounting the accompanying 1970 exhibition that was conceived as an immersive, multimedia version of the book. The project highlights the experimental ethos of artist book production as alternatives to gallery exhibitions during that period, as well as radical new approaches to the circulation of print culture through mass media.
Executive producer in Ottawa: Lorraine Monk. West Coast producers and designers: Jack Dale and Michael deCourcy. 
Supported by John and Helen O'Brian, through the Gallery's Publication Circle.
Paperback in a cardboard folder
Edition of 700
472 pages 
21 x 26 cm / 8.25 x 10.25 in
2015