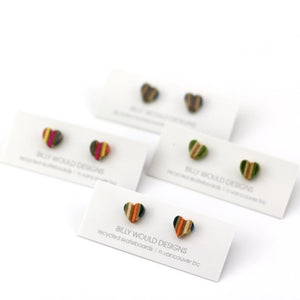 Hand cut out of recycled skateboards, these tiny wood heart studs are the perfect everyday earring. Securely fastened onto sterling silver posts and backs with a glossy protective finish they are sure to last a long time. Made from 7 ply maple wood, skateboards have bright layers and colour that come out when cut just the right way.
Measuring approx. 1 cm x 1 cm. Due to the nature of recycled skateboards colours may very from those pictured, as each one is one of a kind.
Keep wood dry and out of lakes, streams and showers whenever possible. 
Adea Chung has been creating one of a kind pieces using recycled skateboards and discarded offcuts since 2007. Under the name Billy Would Designs, Adea hand makes each piece creating unique wooden jewellery and accessories. With a strong focus on sustainability and clean design, she aims to change how we look at waste and our relationship with this discarded precious resource. 
Growing up in the interior of British Columbia, self expression and creativity were a way of life. As the oldest of 6 obnoxiously talented siblings and influenced by parents who's life mission was to make art, music, and babies; Adea is self taught and always learning. The name Billy is after her daughter, a constant source of inspiration and joy.