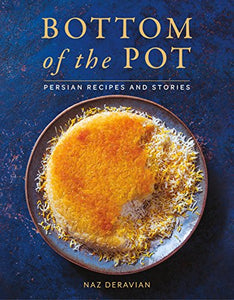 Winner of the IACP 2019 First Book Award presented by The Julia Child Foundation

Naz Deravian lays out the multi-hued canvas of a Persian meal, with 100+ recipes adapted to an American home kitchen and interspersed with Naz's celebrated essays exploring the idea of home.

At eight years old, Naz Deravian left Iran with her family during the height of the 1979 Iranian Revolution and hostage crisis. Over the following ten years, they emigrated from Iran to Rome to Vancouver, carrying with them books of Persian poetry, tiny jars of saffron threads, and always, the knowledge that home can be found in a simple, perfect pot of rice. As they traverse the world in search of a place to land, Naz's family finds comfort and familiarity in pots of hearty aash, steaming pomegranate and walnut chicken, and of course, tahdig: the crispy, golden jewels of rice that form a crust at the bottom of the pot. The best part, saved for last.

In Bottom of the Pot, Naz, now an award-winning writer and passionate home cook based in LA, opens up to us a world of fragrant rose petals and tart dried limes, music and poetry, and the bittersweet twin pulls of assimilation and nostalgia. In over 100 recipes, Naz introduces us to Persian food made from a global perspective, at home in an American kitchen.
About the author
Naz Deravian is a writer and actor born in Iran, who grew up in Italy and Canada, and now lives in Los Angeles with her husband and two children.

She is the award-winning voice behind the food blog Bottom of the Pot, which won the 2015 International Association of Culinary Professionals (IACP) Award for best culinary blog. She has also been twice nominated in several categories for the Saveur Food Blog Awards.

Naz has been profiled in The New York Times, Sunset magazine, and Cond e Nast Traveler, among others. She is the author of Bottom of the Pot: Persian Recipes and Stories .