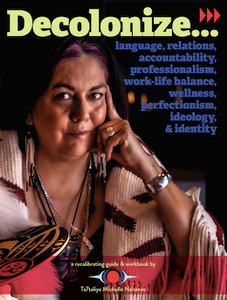 Decolonize ..., a recalibrating guide & workbook by Ta7talíya Michelle Nahanee shares real life decolonizing practices for: language, relations, accountability, professionalism, work-life balance, wellness, perfectionism, ideology & identity. 
This second colourful, meaningful offering from Ta7talíya builds on the foundations set up by her Decolonize First workbook. While that workbook was designed to liberate us all from the layers of neocolonialism that separate us from each other and our actual selves. Decolonize .... dives into everyday cultural norms to recalibrate expectations and approaches with critical awareness and decolonizing practices. 
Nahanee Creative Inc. is a small team of Squamish creative professionals. They are mothers & daughters, friends & mentors within a wider community of Indigenous-led businesses.
Ta7talíya Michelle Nahanee, Sḵwx̱wú7mesh, is a decolonial creative & strategist catalyzing social change to transform colonial narratives & impacts. She works within the intersection of class, culture and creativity focusing on social change through communications and deep engagement. Ta7talíya's collaborations have influenced opinions, changed behaviours and mobilized community action. She is the designer of a life-size board game called Sínulhkay and Ladders.
Her facilitated workshops aim to answer the question "what now" in this era of truth & reconciliation. Her approach earned her the 2019 City of Vancouver Award of Excellence in Diversity and Inclusion. Michelle is also a 2020 Dialogue Associate with the Simon Fraser University Morris J. Wosk Centre for Dialogue. She is aslo the author and designer of a two decolonizing workbooks and is currently writing a full-length creative non-fiction about her decolonizing journey.