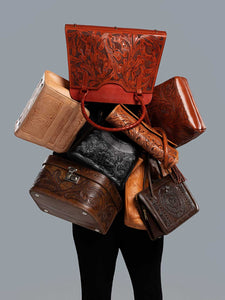 Dana Claxton
Hand Tooled (4 Ellen), 2020
C-print
Framed
Delivery of the art, if required, must be arranged by the purchaser and will be at the purchaser's expense.
The self-portrait by Dana Claxton reveals the vibrant role that belongings play in identity formation and representation. Here, heirlooms and personal affects form—or de-form—the silhouette of Claxton's body, literally composing her identities. Hand Tooled (4 Ellen) is both intimate and idiosyncratic, drawing from the artist's personal collection of handbags made by Indigenous Mexican artisans. Claxton becomes a cultural carrier, embodying the knowledge contained within these storied objects.

Dana Claxton (b. 1959, Yorkton, Sask) is a critically acclaimed internationally exhibited artist. She works in film, video, photography, single- and multi-channel video installation, and performance art, investigating Indigenous beauty, the body, the socio-political and the spiritual. Her work has been shown globally in exhibitions and film festivals, and she has received numerous  awards including, mostly recently, the Audain Prize (2023), the Governor General's Award in Visual and Media Arts (2020), the Scotiabank Photography Award (2020), the VIVA Award, the Eiteljorg Fellowship, the Hnatyshyn Award, and the YWCA Women of Distinction Award. In 2018, the Vancouver Art Gallery organised a comprehensive survey of her practice, Fringing the Cube, and in 2021 Hand Tooled (4 Ellen) was part of the Interior Infinite exhibition at The Polygon Gallery. Claxton is Head and a Professor in the Department of Art History, Visual Art and Theory with the University of British Columbia.