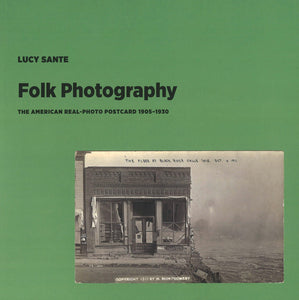 A revised and expanded new edition of Lucy Sante's classic history of the real-photo postcard, with 130 images and a new afterword.
In rural America at the beginning of the twentieth century, the worldwide postcard craze coincided with the spread of light, cheap photographic equipment. The result was the real-photo postcard, so-called because the cards were printed in darkrooms rather than on litho presses, usually in editions of a hundred or fewer, the work of amateurs and professionals alike.
They were not intended for tourists, but as a medium of communication for the residents of small towns, isolated on the plains and in the hills. The cards document everything about their time and place, from intimate matters to events that qualified as news. They show people from every walk of life and the whole panorama of human activity: eating, sleeping, labor, worship, animal husbandry, amateur theatrics, barn-raising, spirit-rapping, dissolution, riot, disaster, death. Uncountable millions of them were made in the peak years, 1905 to 1912.
The 123 postcards reproduced in this book cover the vast range of subjects encompassed by the medium-sometimes lyrical, sometimes bracingly harsh-and Lucy Sante's penetrating analysis places them in their full historical and artistic context. She argues that the cards were a medium of expression very much like the folk music being made in the same places at the same time-open to the complete and unvarnished experience of life and enacting tradition even as they embody modernity. They also represent a crucial stage in the evolution of photography-they are the essential link between the plain style of the Civil War photographers and the vision of the great midcentury documentarians, above all Walker Evans.
Combining her gifts as a chronicler of early twentieth-century America, a historian of photography, and a peerless critic, Sante shows how the "vast, teeming, borderless body of work" constituted by these postcards adds up to a "self-portrait of the American nation."
Softcover
166 pages
20.32 x 20.32 cm