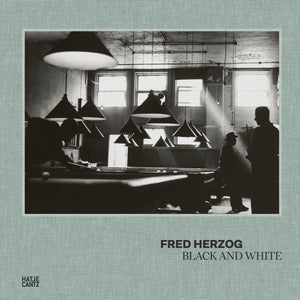 Flaneur with a camera: Herzog's melancholy early work is a love letter to a bygone Vancouver
Fred Herzog roamed the streets of Vancouver to create a portrait of his adopted hometown in chance scenarios and spontaneous acts of perception. Today his work is among the most important examples of early color photography. But Herzog did not decide to work almost exclusively with Kodachrome slide color film until the late 1950s. Fred Herzog: Black and White is the first appreciation of a lesser-known facet of the photographer's work. Complementing the landmark publication of Modern Color in 2017, the volume brings together his sumptuous arrangements of light and shadow, and moments of life outside the city. The early black-and-white photographs evoke a sense of melancholy, not nostalgia, showing that the appeal of Herzog's work lies in his flair for condensing a psychological state.

Fred Herzog (1930–2019) arrived in Vancouver from Germany in 1953. Professionally employed as a medical photographer, he spent his evenings and weekends photographing the city and its inhabitants in vibrant color. Though he was working prolifically from the 1950s on, Herzog was relatively unknown until a major retrospective at the Vancouver Art Gallery in 2007 brought his work to a wider public. Digital inkjet printing enabled Herzog to finally make satisfactory prints from his slides and exhibit his important early color street photography.
Hardcover
Dec. 2022
128 pages
22.86 x 1.91 x 22.86 cm