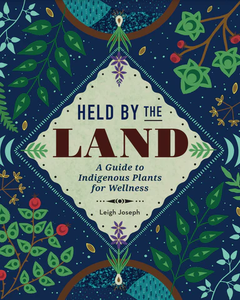 Held by the Land invites us to explore our natural surroundings and renew our connection to the land. With lyrical, meditative prose, ethnobotanist Leigh Joseph advocates for a way of living that develops and builds relationships with the plant life around us, viewing ourselves as part of the ecosystem rather than outside, imposing our whims upon it. Her approach, informed by her cultural heritage as a member of the Squamish First Nation, calls upon reclaiming ancestral knowledge and practices that were impacted by centuries of colonization and rejuvenating them for future generations.
The book also acts as a field guide to plants that were, and remain, vital to the Indigenous communities that are from the territories in the area now known as the Pacific Northwest. You will learn how to:
Identify forty-four culturally significant plants
Harvest plants safely and successfully, or grow them on your own
Set up your very own home apothecary
Utilize plants in both topical and culinary recipes, such as facial steams, bath soaks, desserts, and more
Discover all the riches and abundance that await you once you begin attuning yourself to the natural world.