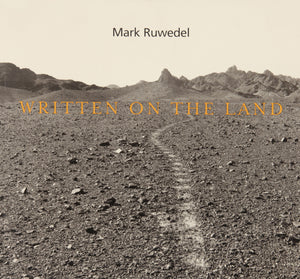 Written on the Land presents Mark Ruwedel's ongoing photographic project that looks at the impact of technologies and culture on the land. His subtle yet rigorous, decade-long investigation resulted in a fascinating accumulation of images portraying not only those devastations we have wrought during our own recent history, through military manoeuvres, weapons testing, resource extraction and cultural modifications but also the violent intrusion that was the 'conquering' of the west, in particular the building of the railways and the application of the new site names by European immigrants and explorers. The book covers Ruwedel's work from 1990 to 2001, divided into three sections: The Ice Age; Pictures of Hell; and Westward The Course of Empire. These three series are interrelated, as archeological history, land use and the act of naming places combine to form a picture of human interaction with the land. The publication includes a list of works and biographies and texts by Barry Lopez and Ann Thomas.
Curated by Karen Love
Exhibition dates: September 7- October 20, 2002. The exhibition toured across Canada during 2003 and 2004.
Designed by Alex Hass, Radish Design Studio. Printed by Hemlock Printers.
Mark Ruwedel was awarded the Scotiabank Photography Award, (Canada) and the  John Simon Guggenheim Memorial Foundation Fellowship in Photography, New York in 2014. He is an Assistant Professor at California State University, Long Beach, CA.
64 pages
49 duotone reproductions
9.5 x 10", horizontal
Publisher: Presentation House Gallery