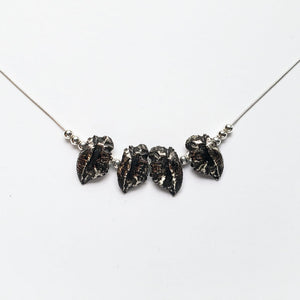 MDW sterling silver Otolith Necklace are a perfect gift for friends of fish or for a friend that likes unique jewelry. This necklace has 2 right otoliths and 2 left otoliths, accompanied by twenty 3mm sterling silver beads that sit on a delicate 16″ snake chain.

Otoliths can tell you a lot about a fishes journey, commonly know as "ear stones", otoliths are hard, calcium carbonate structures located behind the brain of a fish. These otoliths can tell you what age the fish passed, which waters it swam in and which type of fish it was. These particular otoliths are from a large Chinook Salmon gifted to Meghan Weeks from a friend. To honour them and give her thanks, Meghan took a mold and cast them into sterling silver.
MDW Jewelry is created by founder and artist Meghan Weeks. Meghan is nehiyaw iskwew and akayasewiskwew (in English translates to A Cree woman and an English woman). Meghan's work reflects teachings from the matriarchs in her family, childhood memories, and her continued healing journey to stop the cycle of intergenerational trauma, and her struggle of being part colonizer and the colonized.