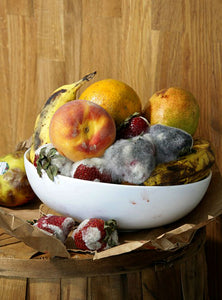 Released in conjunction with the artist book Lynn Valley 6 (with Cheyney Thompson)
Roe Ethridge (American, b. 1969) is widely recognized for his exploration of a fertile territory between commercial and "art" photography. Ethridge often borrows images already in circulation, including outtakes from his own commercial work. "Everything seems to end up in a magazine sooner or later," Ethridge has said. For example, Old Fruit was first featured on the cover of the 2010 photo issue of Vice magazine.
In his collaborative work for Lynn Valley, Ethridge drew upon the descriptive power of photography and the ease with which images are now accessed, duplicated, and recombined. His visual fugues juxtapose and collage images, for example through a superimposition of a plain white plate from the website of Bed, Bath & Beyond onto a checkered Comme des Garcons scarf. Combining and recombining already recontextualized images, Ethridge at once subverts the photograph's original roles and renews their signifying possibilities.
Ink jet print on archival paper
12.5 x 10 inches / 31.7 x 24.4 cm
Published in collaboration with Bywater Bros. Editions
October 2010