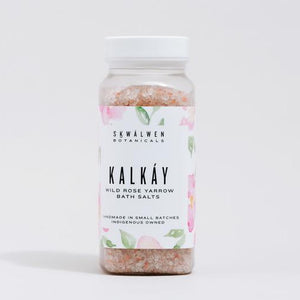 Sḵwálwen (skwall - win) is an Indigenous business creating small batch botanical skin care products by Styawat, from the Skwxwú7mesh (Squamish) First Nation. Styawat, also known as Leigh Joseph, is a ethnobotanist, researcher and community activist, who aims to contribute to cultural knowledge renewal in connection to Indigenous plant foods and medicines. Honouring traditional Skwxwú7mesh plant knowledge, Sḵwálwen incorporates wild harvested plants and organic, high quality ingredients. Wild plant ingredients are harvested in a sustainable and respectful way and each product has a Squamish name to honour the place where this plant knowledge comes from. 
KALKÁY (call-kay) is the Squamish word for wild rose bush.
Renew your body and spirit with these calming bath salts. The heavenly scent comes from hand-harvested wild rose petals and yarrow flowers. Combined with essential oils and epsom, Himalayan and Dead Sea salts, this bath-ready blend creates a deeply relaxing ritual.
Ingredients: Sodium Chloride (Himalayan Pink Salt), Sodium Chloride (Dead Sea Salt), Magnesium sulphate (Epsom Salt), Rosa nutkana (wild rose) petals**, Achillea millefolium (Yarrow) flowers**, Rosa canina (rosehip) Oil*, Blend of Essential Oils
Instructions: Add 1/4 of the bottle to a hot bath, swirl water to dissolve and enjoy. Use within one year of opening.
236ml / 8oz