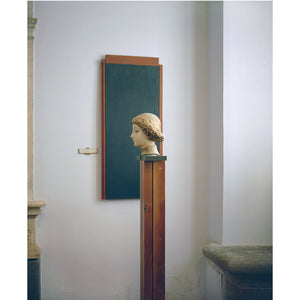 Final print of the edition. #15/15

Bust of a Young Boy
2018/2021
Archival pigment print
Image size: 22" X 17.5"
Paper size with white border: 32.5" x 27.5"
Edition of 15
Framed

Delivery of the art, if required, must be arranged by the purchaser and will be at the purchaser's expense. 
About Stephen Waddell
b. 1968, Vancouver, BC
Stephen Waddell is renowned for poetic depictions of the everyday that, through his lens, become remarkable and mysterious. As with Bust of a Young Boy, his photographs reward close scrutiny as uncanny details surface. This image reflects Waddell's longstanding concern with figuration, particularly sculptural representations of human bodies. Initially a painter and filmmaker, he often references pictorial histories, evident in the painterly quality of the tableau: a sculpted bust of a young boy by the Italian Renaissance artist Antonello Gagini (who apparently worked with Michelangelo) displayed on its own in the Abetellis Museum in Palermo, Sicily. The room evokes the atmospheric sensibility of the museum's restoration architect Carlo Scarpa's subtle use of colour and materials. In this serene and melancholic photograph, these effects are amplified by Waddell's adept skills for making the material qualities of light palpable.
Stephen Waddell is a Vancouver photographer. He received an MFA from the University of British Columbia and in 2019 won the prestigious Scotiabank Photography Award. Waddell has exhibited at the Ryerson Image Centre; Vancouver Art Gallery; The Polygon Gallery; Espai d'art contemporani de Castelló, Spain; Kunstforum Baloise, Basel, Switzerland; Fotomuseum Winterthur, Switzerland; Contemporary Art Gallery, Vancouver; and C/O Berlin, Germany, among other international galleries. Waddell's works are included in museum collections of the Armand Hammer Collection, Los Angeles; National Gallery of Canada; Vancouver Art Gallery, and numerous others. His most recent books include Stephen Waddell (Steidl), Dark Matter Atlas (Vancouver Art Gallery), and Hunt and Gather (Steidl). Waddell is represented by Monte Clark Gallery, Vancouver.