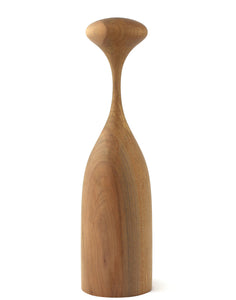 A playful reimagination of the household classic. Simply twist the top to produce fresh pepper.

Engineered to last. Not fragile, despite appearances.

Made in Canada from ethically-sourced wood.

-Can also be used with rock salt
-Grain-matched solid wood with internal reinforcement
-High-quality Danish ceramic grinding mechanism
-Easily refilled via built-in funnel in bottom
 
10" (24.5cm) tall, 2⅝" (67mm) maximum diameter
About this wood: Arbutus Menziesii, commonly known as Madrone or simply Arbutus is a hardwood native to Pacific coastal regions of Canada and the United States. It is a cherished and easily-identified tree in its native range, known for its distinctive peeling red bark and erratic twisting branches. Timber from this tree is rarely produced as it is notoriously difficult to properly cut and dry but when done right it yields truly exceptional wood. Arbutus is hard and finely-grained with an array of colours ranging from reddish tones to streaks of blue. One of our all-time favourite woods!

Please note that every pepper mill will be unique due to natural variation in each piece of wood.


Tantalus Design is a Vancouver-based product design and fabrication firm founded in 2012 by brothers Shawn and James Kay. Their process is driven by experimentation, meticulous attention to detail, and a love of the materials we work with.
Shawn Kay is an industrial designer with more than a decade of experience building custom homes. Shawn holds a degree in Environmental Design from the UBC School of Architecture.
James Kay's background is in materials science and industrial fabrication. He has a BASc in Integrated Engineering and a PhD in Materials Engineering from the University of British Columbia. James also teaches engineering design at Capilano University.
All Tantalus products and custom works are designed and manufactured in-house at our studio workshop in North Vancouver.