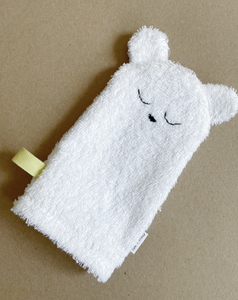 Use the terry cloth bear puppet in the bath to scrub your little cub. Your child can use it for imaginative play while learning valuable personal hygiene skills. 
100% cotton terry cloth with a hand embroidered face. 
Each item is handmade in Vancouver and unique, no two are identical. 


tuk + milo was founded in 2013 by Justine, an Early Childhood Educator. Her passion for early learning and the benefits of play based learning have lead her to expanding her products and online shop. 
tuk + milo is an online kids concept shop that focuses on the benefits of play-based learning through the early years. Their signature handmade soft toys are now accompanied by open-ended play materials, developmentally appropriate activities and creative art supplies. Their collection is curated to encourage imaginary + creative play.