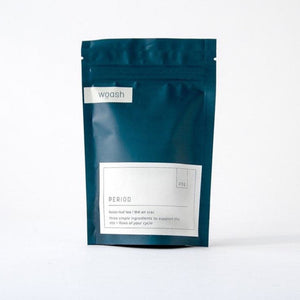 Founded in Vancouver, Woash aims to disrupt industries by bridging the gap between traditional herbal medicine and modern wellness. Aimed to encourage health aware individuals to nourish their bodies from within by carefully crafting loose leaf tea blends that utilize nature's benefits and taste profiles to support and enhance overall health for a variety of unique seeds.  All Woash blends are made with quality, certified organic, whole-leaf ingredients that are sourced directly from sustainable farms all over the world.

A simple blend of raspberry leaf, lemon balm and stinging nettle leaf designed to ease menstruation and replenish depletion from your cycle. Feel supported - period.
All ingredients are caffeine-free, flavouring-free, sweetener-free and Certified Organic.
INGREDIENTS: Raspberry leaf, Stinging nettle leaf, Lemon balm
We do not recommend consumption if you are pregnant.