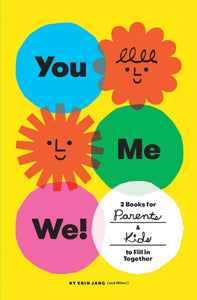 A pair of activity books to inspire bonding between parents and kids
You, Me, We! is a set of fill-in books that give parents and children an opportunity to express themselves and connect with each other in the process. Filled with activities that appeal to the kid and the kid-at-heart, these identical books are designed so that a parent and child can capture memories, share interests, and collaborate on silliness at the same time! Created by Erin Jang (@theindigobunting) and kid-tested by her son Miles, these boldly designed books are gender-neutral and written for moms, dads, sons, and daughters alike. They are ideal for taking on vacation, breaking out on a rainy day, or doing a page at a time as a nightly ritual. An easy way to capture the parent-child relationship at a moment in time, You, Me, We! will become a treasure in the making.
Special Features
Two paperback books packaged together with a clear acetate jacket
Activities are suitable for ages 7 and up
Full-color illustrations throughout
Erin Jang is a graphic designer, an illustrator, and the design director behind Color Factory NYC, an interactive and multisensory museum. Her clients include Urban Outfitters, Land of Nod, the New York Times, Parents magazine, Bon Appétit, and Real Simple. The Indigo Bunting is her design studio.